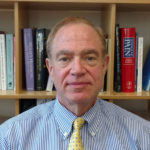 As CGRP monoclonal antibodies (mAbs) are rarely 100% effective at preventing migraine, clinicians are starting to combine them with gepants to treat breakthrough headaches. Richard Lipton, Edwin S Lowe Professor of Neurology at the Albert Einstein College of Medicine, New York, USA, explains that there is a growing body of evidence from pharmacokinetic and observational studies, and post hoc analyses of clinical trials, which supports the use of CGRP mAb and gepant combinations.1-5
Professor Lipton recommends that gepants should be given with CGRP mAbs to the same patients who would be gepant candidates when not on a CGRP mAb, such as those with contraindications or inadequate response to triptans, or intolerable side effects, or who are at risk of medication overuse.
A patient may be started on a gepant for any of these reasons and then have a CGRP mAb added, or they may have started on a CGRP mAb and then have a gepant added for breakthrough headache.
The approval of rimegepant 75 mg for prevention as well as treatment of migraine opens up the possibility of using the drug every other day for prevention and using an extra dose for breakthrough headache. Moving forward, Professor Lipton sees a continuing role for CGRP mAbs in preventive therapy in combination with gepants; some patients may prefer a preventive CGRP mAb injection monthly or quarterly and an oral gepant as need while others may prefer an oral gepant for prevention, acute treatment or both. Choice of treatment will be guided by multiple factors.
An extended version of this article is available on Hot Topics
* This interview was filmed before the approval of atogepant for the prevention of episodic migraine in adults in the USA.
References
Jakate A, Blumenfeld AM, Boinpally R et al. Pharmacokinetics and safety of ubrogepant when coadministered with calcitonin gene-related peptide-targeted monoclonal antibody migraine preventives in participants with migraine: A randomized phase 1b drug-drug interaction study. Headache 2021 Apr;61(4):642-652.
Chiang C-C, Arca KN, Dunn RB et al. Real-world efficacy, tolerability and safety of ubrogepant. Headache 2021; 61: 620-627
Lipton RB, Contreras-De Lama J, Serrano D et al. COmbining UbRogepAnt and Preventives for MiGrainE (COURAGE) study using the migraine buddy application: A novel, entirely remote design for collecting real-world evidence. Headache 2021; 61 (S1): 100 (IOR-10).
Mullin K, Kudrow D, Croop R et al. Potential for treatment benefit of small molecule CGRP receptor antagonist plus monoclonal antibody in migraine therapy. Neurology 2020;94:e2121-e2125.
Berman G, Croop R, Kudrow D et al. Safety of Rimegepant, an Oral CGRP Receptor Antagonist, Plus CGRP Monoclonal Antibodies for Migraine. Headache 2020;60:1734-1742
---
Share your experience
Why not tell us about your experiences of combining CGRP mAbs with gepants so that other Forum members can benefit.