What is CGRP?
The neuropeptide calcitonin gene-related peptide (CGRP) is a very potent vasodilator which plays a major role in migraine pathophysiology.
It was first identified over 30 years ago and is found as two isoforms, one in the peripheral nervous and central nervous system (α-CGRP) and the other (β-CGRP) mainly in the enteric nervous system surrounding the intestines.1
CGRP and its receptors are the targets for new therapies for the prevention and acute treatment of migraine.

What is the evidence that CGRP plays a role in migraine pathophysiology?
There is now much evidence supporting CGRP's role in migraine.2 In 1990 a study found that CGRP is released into the external jugular vein during the headache phase of migraine in patients with or without aura.3 Since that time a number of studies have shown that CGRP is released when the trigeminal ganglion is stimulated and during severe migraine attacks.1,2 In addition, it has been shown that CGRP administration triggers migraine in patients, and that reversal of a migraine attack with effective triptan treatment normalises the levels of CGRP.1,2 Research has shown that blood CGRP levels are significantly higher in women with a history of migraine.4
As CGRP seems integral to the clinical expression of migraine, CGRP blockade offers a valuable strategy for the treatment of migraine.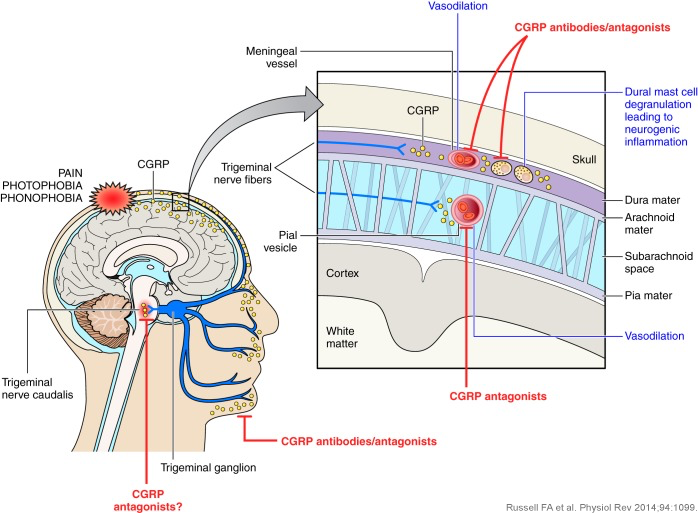 What approaches have been used to target CGRP or its receptor?
A number of small molecule CGRP receptor blockers were initially developed that showed clinical efficacy in acute migraine and provided proof of concept that targeting CGRP was an effective migraine strategy. However, early agents were difficult to produce in an oral formulation or had toxicity issues.
Subsequent research showed that humanised monoclonal antibodies that block CGRP activity were both effective and well tolerated in the prevention of migraine. These are administered subcutaneously or intravenously.5 Four monoclonal antibodies - erenumab (Aimovig), galcanezumab (Emgality), fremanezumab (Ajovy) and eptinezumab (Vyepti) - are approved in a growing number of countries, for the preventive treatment of episodic and/or chronic migraine.
As a result of continuing research into small molecule CGRP receptor blockers, new oral agents in the 'gepant' class of drugs were developed for the acute treatment of migraine and these have been shown to have a good efficacy and safety profile.6,7 Two drugs have been approved, ubrogepant (Ubrelvy) and rimegepant (Nurtec ODT/Vydura), and other agents are in development. Atogepant (Qulipta)  and rimegepant (Nurtec ODT/Vydura) have been approved for migraine prevention.
What is the potential for anti-CGRP therapies for patients with migraine?
Clinical trials are confirming that CGRP monoclonal antibodies are effective in patients with difficult to treat migraine that is unresponsive to multiple classes of other migraine drugs. 8-10 Long term data from migraine prevention studies have started to show that the efficacy and tolerability of CGRP monoclonal antibodies are sustained for periods up to five years.11,12 Real world evidence is also showing that these therapies are effective in patients with refractory migraine and with co-morbidities.
Leading international clinical experts have described the tolerability and clinical efficacy of these agents as "a breakthrough in migraine therapeutics, where, since the triptans, there have been no outstanding developments in the management of this disabling condition."1
Summaries of the clinical trial data are available here.