Landmark research has established that CGRP plays a key role in migraine pathophysiology. Indeed, the importance of this discovery was recognised by the award of the prestigious Brain Prize 2021 to the four clinicians who carried out the research, Peter Goadsby, Lars Edvinsson, Michael Moskowitz and Jes Olesen.
The introduction of anti-CGRP therapies is transforming the care of patients with migraine whose previous treatment options were restricted by variable and limited responses, poor tolerability or concurrent medical conditions. It is therefore important that healthcare professionals know about the growing body of evidence supporting the efficacy and safety of anti-CGRP therapies in the prevention and acute treatment of migraine.
Read: Unmet needs in migraine prevention »
About CGRP
CGRP is widely distributed within the central and peripheral nervous systems. CGRP appears to act by distinct mechanisms in these sites.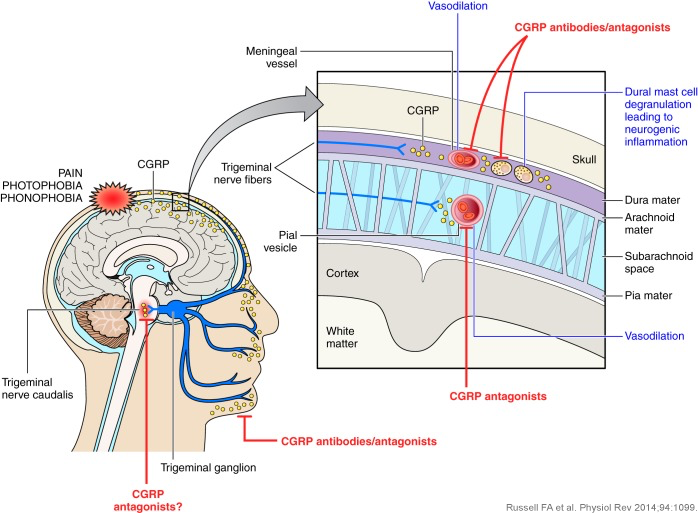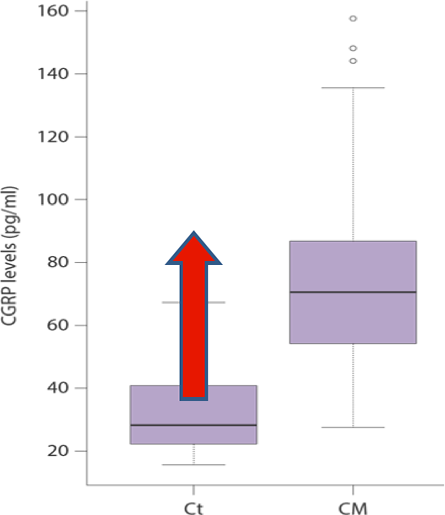 The increase in CGRP during migraine
Key: CT = control; CM = chronic migraine
CGRP levels increase during an acute migraine, and decrease during effective treatment of the attack. Importantly, infusion of CGRP was shown to trigger a migraine in migraine sufferers.
Targeting CGRP in treatment
Having defined the therapeutic target, the search for an effective treatment was  intense.
Initially research focused on the development of small molecule drugs that were designed to block CGRP receptors.
However, while these were effective in acute treatment of migraine, there were a number of issues, including signals of liver toxicity with some.
Attention therefore focused on CGRP monoclonal antibodies and clinical trials consistently demonstrated significant reductions in migraine frequency. Four of these agents which specifically target CGRP or its receptor, erenumab (Aimovig), fremanezumab (Ajovy), galcanezumab (Emgality), and eptinezumab (Vyepti), have now been approved for migraine prevention.
Despite initial disappointment with small molecule CGRP antagonists, further research has led to the development and approval of three agents with reassuring safety profiles. Rimegepant (Nurtec ODT/Vydura) is approved for acute and preventive treatment of migraine, ubrogepant (Ubrelvy) is approved for acute treatment of migraine, and atogepant (Qulipta) is approved for migraine prevention.
Some currently available anti-CGRP agents are being investigated in other indications. Additional novel agents that target CGRP are in development.
Extensive clinical trials are ongoing to confirm the efficacy and evaluate the safety of these new treatments.
Read more

Backgrounders

Unmet needs in migraine prevention

CGRP and migraine