Recent research has established that Calcitonin Gene-Related Peptide (CGRP) plays a key role in migraine pathophysiology.
For many years, preventive and acute treatments for migraine have been available but have a number of issues. These include variable (or limited) response, poor tolerability or restrictions due to concurrent medical conditions.
Read: Unmet needs in migraine prevention »
Efficacy and safety
Anti-CGRP therapies have now been evaluated in clinical trials and results suggest that they may offer clinicians the opportunity to significantly improve the care of patients with migraine.
About CGRP
CGRP is widely distributed within the central and peripheral nervous systems. CGRP appears to act by distinct mechanisms in these sites.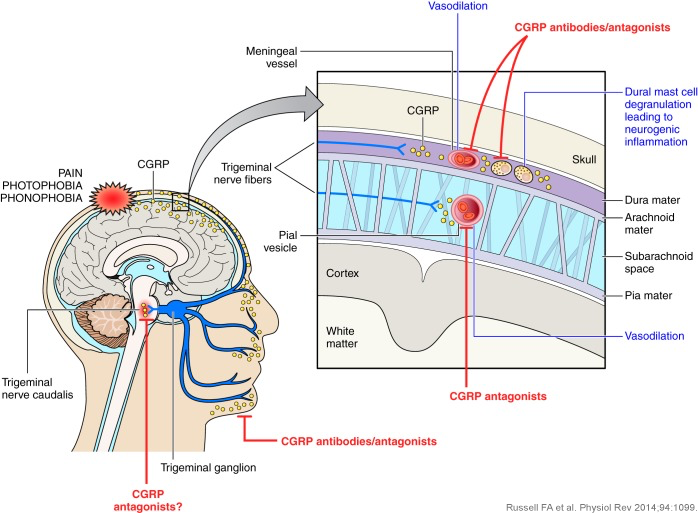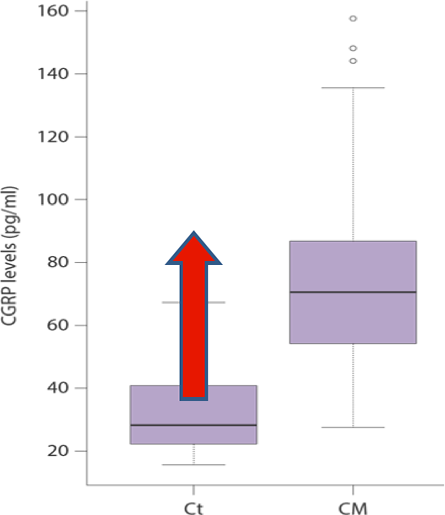 The increase in CGRP during migraine
Key: CT = control; CM = chronic migraine
CGRP levels increase during an acute migraine, and decrease during effective treatment of the attack. Importantly, infusion of CGRP was shown to trigger a migraine in migraine sufferers.
Targeting CGRP in treatment
Having defined the therapeutic target, the search for an effective treatment has been intense.
Initially research focused on the development of small molecule drugs that were designed to block CGRP receptors.
However, while these were effective in acute treatment of migraine, there were a number of issues, including signals of liver toxicity with some.
Attention therefore focused on CGRP monoclonal antibodies (MABs) and clinical trials consistently demonstrated significant reductions in frequency of migraines. Four of these agents which specifically target CGRP or its receptor, Aimovig (erenumab), Ajovy (fremanezumab), Emgality (galcanezumab) and Vyepti (eptinezumab), have now been approved for migraine prevention.
Despite initial disappointment with small molecule CGRP antagonists, further research has led to the development and approval of two agents, Nurtec ODT (rimegepant) and Ubrelvy (ubrogepant), for acute treatment of migraine, which have a reassuring safety profile.
Some currently available anti-CGRP agents are being investigated in other indications, and other novel agents that target CGRP are in development.
Extensive clinical trials are ongoing to confirm the efficacy and evaluate the safety of these new treatments.
Read more

Backgrounders

Unmet needs in migraine prevention

CGRP and migraine