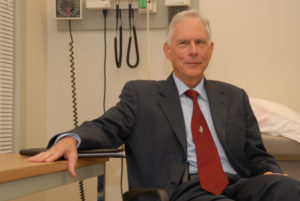 Professor Emeritus, University of Calgary, Canada
Dr Becker is Professor Emeritus in the Department of Clinical Neurosciences at the Cumming School of Medicine, University of Calgary, and has served as Neurology Division Chief, Interim Department Head, and Quality Improvement Physician for the Department.  Other positions held in the past include Chief Examiner in Neurology for the Royal College of Physicians and Surgeons of Canada, and chair of the Curriculum Committee for the Faculty of Medicine at the University of Calgary.  He received his MD degree from the University of Manitoba in Winnipeg, and did his neurology training at McGill University in Montreal.
He is a past president of the Canadian Headache Society, and has served on the boards of the American Headache Society and the International Headache Society. For several years he organized the Pan American-Asian Symposium for the American Headache Society.   Dr Becker founded the Calgary Headache Assessment and Management Program (CHAMP), a multidisciplinary headache management program, in Calgary in 2003, and remains an active participant in this program.  For his work in neurology and headache medicine, he was awarded the John R Graham Award for research and education in the field of headache by the American Headache Society in 2011, and the Alberta Medical Association Medal for Distinguished service in 2013.
Dr Becker has over 100 peer-reviewed publications, and was senior author on two national migraine treatment guidelines, the Canadian Headache Society (CHS) guideline for acute drug therapy for migraine headache, and the CHS guideline for migraine prophylaxis.  For many years, he has co-chaired the Canadian Headache Society National Neurology Resident Headache Course which brings neurology residents from across Canada together for an intensive 2-day course in headache medicine.
Dr Becker's clinical activity focuses on the diagnosis and management of headache disorders including both acute symptomatic treatment and prophylactic treatment.  He has been involved in migraine clinical trials of new treatments for many years, starting with the triptans in the 1990s.  He has been involved with many migraine prophylactic trials including those involving onabotulinumtoxinA, and more recently the calcitonin gene related peptide monoclonal antibodies.
« Back to Editorial Board