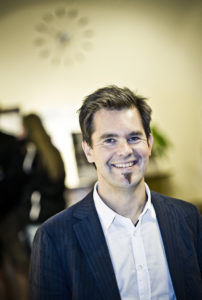 Professor and Consultant Neurologist
Norwegian Advisory Unit on Headaches, Department of Neuroscience
Norwegian University of Science and Technology (NTNU)
Trondheim, Norway
Mattias Linde received his MD in 1993 at Lund University, Sweden, and in 2002 he became specialist in Neurology at Sahlgrenska University Hospital in Gothenburg, Sweden.
In 2004 he founded Cephalea Headache Centre in Gothenburg where he received >10,000 visits by patients from all over the country. Parallel to this, he pursued research at the Sahlgrenska Academy, Gothenburg University, where he received his doctorate with a thesis on migraine and worked as an associate professor of neurology. In 2010 he was recruited as a consultant at the National Advisory Unit for Headache in Norway (Trondheim).
Since 2011, Mattias Linde has been Professor of Neurology at the Department of Neuroscience, Norwegian University of Science and Technology (NTNU), Norway's largest university. Currently, he is supervisor of six doctoral students at NTNU.
Mattias Linde has written over a hundred scientific articles, books and textbook chapters, including a paper on CGRP-antagonists in The Lancet. He has developed new treatments for headaches and has gained reputation through his publications on the prophylaxis of migraine with and without medication.
Mattias Linde has collaborated with researchers in 18 countries and has worked with headache in Geneva on behalf of the World Health Organization (WHO). He is project manager for the first nationwide survey of headache disorders in Southeast Asia. He has repeatedly been in the scientific expert committee for the world's biggest largest congresses EHMTIC and IHC, and he is a member of the editorial board of the Journal of Headache and Pain.
Mattias Linde is a frequent speaker at conferences, institutions and universities around the world. He has trained hundreds of doctors from Scandinavia and other parts of the world. In 2007 he was awarded the Swedish Neurological Society Award THE GOLDEN REFLEX HAMMER for best educator in neurology.
« Back to Editorial Board