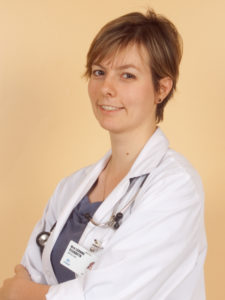 Clinical Assistant Professor Neurology
Headache Clinic Director, South Health Campus
University of Calgary, Canada
Dr Elizabeth Leroux did her neurology training at University of Montreal. She did a two-year fellowship in Paris at the Emergency Headache Center of Hopital Lariboisiere, doing research mainly on cluster headache.
She has been the director of the Headache Clinic at Hospital Notre-Dame (Montreal University Hospital) from 2010 to 2016. She is currently the Headache Leader at the University of Calgary Neurology program.
Dr Leroux is the vice-president of the Canadian Headache Society, the founder of the Migraine Quebec website and association and an advocate for headache patients. She has published a book for the great public on migraine available in french, english, and mandarin.
« Back to Editorial Board