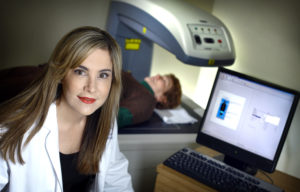 Associate Professor of Neurology and the Director of Headache Research
Johns Hopkins University School of Medicine
Johns Hopkins Bayview Medical Center
Baltimore, USA
Dr Lee Peterlin is an Associate Professor of Neurology and the Director of Headache Research at Johns Hopkins School of Medicine. She received her medical degree from the Philadelphia College of Osteopathic Medicine and completed a neurology residency and a neurophysiology fellowship at Pennsylvania State University College of Medicine's Milton S Hershey Medical Center. She completed a headache fellowship at Dartmouth-Hitchcock Medical Center and holds a United Council for Neurologic Subspecialities certification in headache medicine.
Dr Peterlin is an active member of the American Headache Society (AHS), the International Headache Society, and the National Headache Foundation. She is the co-chair of the NIH's Headache Common Date Elements Biomarker committee and the past chair of the of the Women's Special Interest Section of the AHS and the Southern Headache Society's Education Committee. Dr Peterlin received the NHF lectureship award for her work on the relationship between migraine and obesity.
She has published over 80 articles in the scientific literature, authored several book chapters, co-edited a handbook for primary care physicians on migraine (Menstrual Migraine, Oxford University Press, 2008), serves as an associate editor for Headache and is a member of the editorial board of Neurology. As a researcher, Dr Peterlin has focused on advancing our understanding of the factors that influence the generation and progression of migraine and the identification of potential migraine biomarkers and drug targets. Her work has received grant support from the National Institutes of Health (NIH), the AHS, and the Landenberger Foundation.
« Back to Editorial Board